Over the past couple of decades software advances such as EPIC have been used widely throughout the United States. They have made many advancements in medical record documentation and progress in the management of healthcare systems. However, despite these advancements there remain areas of physician, provider and even patient wellness that need attention.

The origins of the BestCarePath project was created over the past few years through a collaboration between Pinion (Ovid Stavrica) and Asesa Healthcare (Alex Porter). Together, they and their Team located in Washington and California with medical input from myself and others both in Washington and elsewhere initially established the entity known as "Care Partner Project (CPP)" or "Care Partner Experience (CPE)".
The idea of CPP or CPE was to help reduce the workload and increase the efficiency of the physician/provider-patient visit, while not placing any additional demands upon the Clinic staff. In addition this project would accrue data collection on these patients that would bring about improved quality and outcomes for patient care.
While Dr. Wright was working for the Providence Physician Group, this project was discussed. However, initiating a new concept like this one proved to be difficult within the EPIC framework and the environment of a large organization like the Providence Regional Medical Center and the Providence System.
Two months ago, Dr. Wright retired from the Providence Physician Group Cranial, Spine and Joint Clinic, that was basically a surgical practice. He discussed the future of the CPP or CPE project with Ovid, Alex and their Team. A new entity, Intelliheal was formed and the project was renamed the BestCarePath project.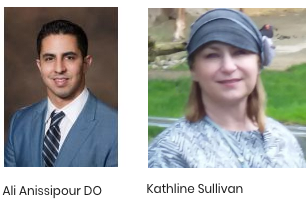 The BestCarePath opportunity was presented to Ali Anissipour DO, the spine surgeon at the Western Washington Medical Group here in Everett, Washington as well the clinic manager, Kathline Sullivan. They saw potential in a trial of the BestCarePath project. They understood that, if successful, other physicians and providers may become interested in this new advance.
Later, the Sanford Wright Legacy Award was created and Dr. Wright was invited to the unveiling of this Award at the Providence Medical Staff Meeting January 24, 2019. It was at that meeting that Dr. Wright realized a much fuller purpose for the BestCarePath project.
Jay Cook led off with the initial presentation at the Providence Medical Staff Meeting. His subject was that of physician burnout and suicide. This caught Dr. Wright by surprise. This concept seemed foreign to his nearly 40 years of neurosurgical practice without "burnout" – other than some "day time drowsiness" at times, when the Clinic staff at the Providence Medical Group Cranial, Spine and Joint Clinic temporarily experienced decreased clinic staffing.
In his nearly 40 years of neurosurgical practice at Providence, Dr. Wright made a habit of visiting his patient's twice a day/ 7 days week and rarely even made home visits. Over those years he probably took little more vacations that you could count on one hand. Yet, he never felt that he experienced "Burnout" to the best of his knowledge. So, upon hearing Jay's comment, he wondered "What is different about me – and many others like me? Why do I/ we not experience "Burnout"?
When Jay finished his talk, he asked: "Are there any questions?" To everyone's surprise – including Dr. Wright and his daughter, Dascha – Olga, his wife, a professional Russian ballroom dancer, took the microphone. As specifically as she could – using "Russo-English" – she single-mindedly seemed to be intent upon implying, "Jay you've spent a lot of time talking about the problem but what are the solutions? You didn't seem to offer any".
(The Business of Medicine MedScape December 2018 issue featured a story – "Is it BURNOUT or DEPRESSION". It is just one of many, many illustrations about the complexity of this subject.)
As the next speaker began talking, Dr. Wright began to ponder his wife's question. He recalled that all physicians and providers have to generate the motivation required to deal with stress and excessive workloads. Curiously, he remembered an experience that he had while producing the Christmas Spectacular that had some bearing upon this matter.
For 18 years he'd produced "The Christmas Spectacular" at the Everett Civic Auditorium. The last show was December 8, 2018 and the focus centered upon "Make A Wish of Alaska and Washington". However, beginning in 2012, he brought about a new connection with the Providence Children's Center and children with special needs.
Jocelin Meadows was one of these children. Dr. Wright requested that a wonderful Russian violinist, Artem Savchenko, compose a special piece of music for Jocelin. Artem flew Artem from Moscow so that he could stand on the stage of the Civic Auditorium. He played, while Jocelin danced with a very fine young Russian instructor, Alexey Gavrilov.
Dr. Wright eventually confronted Jocelin's mother, Barbara. He said, "Look, I probably shouldn't say this, but my motivation to help your daughter may be very "SELFISH"! Of course, Dr. Wright knew that he was publicly recognized or rewarded for doing all these things for Jocelin. But the much bigger reward was the one conveyed to him from Jocelin personally. It was this individual personal reward (or IPR) – this "Selfish/Feel Good Reward" – that made him feel so ecstatic – so thrilled and excited.
Wright was expecting Barbara to be insulted – mad. But instead she laughed and laughed. She finally exclaimed: "I feel the same way sometimes, when I do things for Jocelin!" We both agreed that our motivation for helping others is not rewarded only through Explanation or Public responses – but through the intense, personal FEELINGS that arise in our hearts and souls. Those very 'SELFISH/Feel Good" feelings.
From this example with Jocelin, Dr. Wright could see that the magnitude of "Explanatory or Public Rewards (EPR)" v.s. "Individual Personal Awards (IPR)" can vary greatly. But he predicted that most often the "Explanatory or Public Reward (EPR)" will have a smaller impact upon our motivation than the more intense "Individual Personal Reward (IPR)" – or "Selfish/Feel Good" reward.
So there are at least two (2) different kinds of Rewards = "Explanatory or Public Rewards (EPR)" + "Individual Personal Rewards (IPR)".
As the other speakers continued, Dr. Wright could see how insufficient "motivation" could lead to physician or provider "Burnout".
Thus, when physicians or providers are at work, their motivation level will depend the NET of their Rewards and their stress/work load.
Motivation = Rewards – Workload/Stress.
Of course we can assume that the threshold and sensitivity for these variables will vary physician to physician or provider to provider. Yet, Wright could begin to see how at least some factors may impact "Motivation" and hence "Burnout".
Finally, as Jay was making the introduction to The Sanford Wright Legacy Award, Wright mentally rearranged the structure of the comments he had previously put together the night before. He signaled Jay that he would like to direct that last part of his comments to the issue of "motivation" that at times can depend upon very personal, intense rewards .
The next day Dr. Wright re-organized his intended talk to conform to the actual talk that he delivered. (You will find under "The Sanford Wright Legacy Award" both the video recorded and text version of Dr. Wright's talk).
In summary, if the BestCarePath can reduce Stress/Workload AND provide more face time between physician or provider, then smiles, tears, hugs and other non-verbal expressions of "Individual Personal Rewards (IPR)" will be more likely. Motivation will be increased. And maybe the threat of physician burnout and suicide will be mitigated? Hence, the BestCarePath may have a significant impact upon Physician or Provider Wellness!
BestCarePath