The 911 attack on America occurred while Dr. Wright was serving as President on the Everett Performing Arts Board. Because of 911 the Everett Herald announced that the local food banks were in need of support. So, Dr. Wright encouraged the board to put on a community stage show to highlight this need. Another board member, Frank McCord, the President/CEO of the Cascade Savings Bank felt that a prominent name was needed for this event, which subsequently became known as the "Christmas Spectacular."
Although Dr. Wright stepped down as President of the Everett Performing Arts, he felt the need to continue producing and directing the "Christmas Spectacular". Through the years the price of admission has always included a food donation.
Through an introduction to the Providence Children's Center, Dr. Wright became acquainted their programs for Children with Special Needs. This feature was therefore added to the show for several years. One child in particular, Joelin Meadows*, helped attract attention to this project.
Through a physical therapist at Providence, Darlene Hussey, Dr. Wright became aware of the wonderful things being done by the Make-A-Wish of Alaska and Washington organization. Not only has Make-A- Wish become part of the show, but an annual Make-A-Wish Community Auction has been created as well. To see the 2018 Christmas Spectacular go to: www.thechristmasspectacular.com.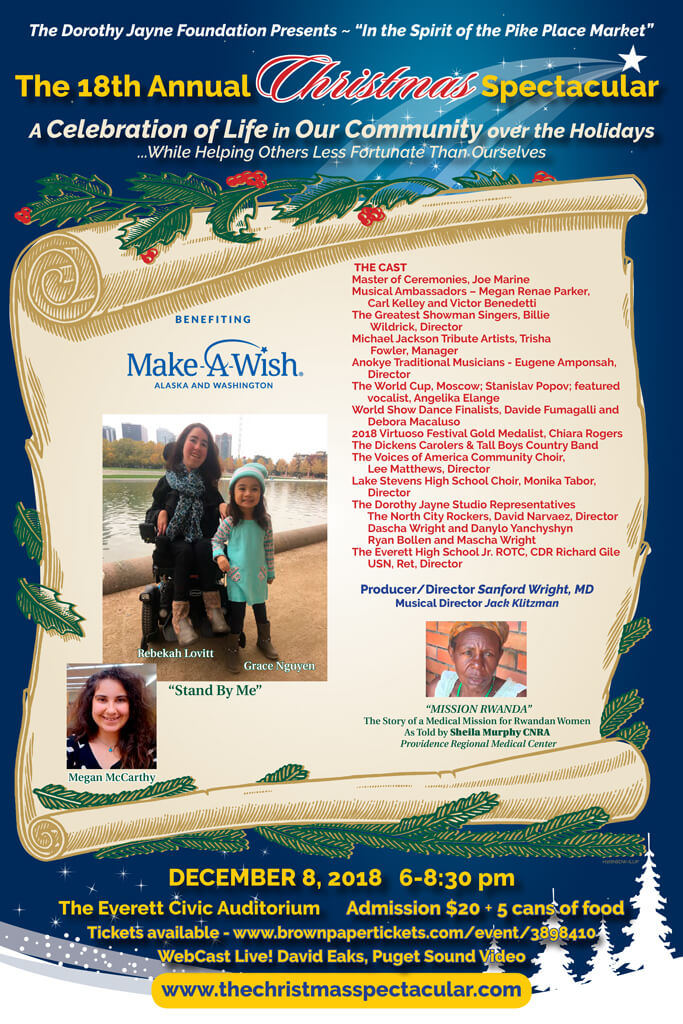 The Christmas Spectacular 2001-2018