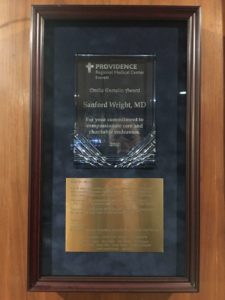 "Dear Dr. Wright –
For 38 years as a medical staff member in Everett, you have consistently demonstrated compassion for patients and their families. You have always been available to your patients – days, nights and weekends.
You exemplify the compassionate care, charitable endeavors and tireless service with abundance of grace and humility of Emile Gamelin.
Therefore, on behalf of the PRMCE General Medical Staff, please accept this award as a small token of your extraordinary work.
Thank you,
Lisa George
Director of Regulatory Compliance, Accreditation and Medical Staff Service
2017 MEDICAL EXECUTIVE COMMITTEE MEMBERS:
Clifford Rogers
Barry Kahn
Elie Saikaly
Eric Cooper
Jenny Hobbs
Kevin Clay
Kevin Pieper
Mahesh Mulumudi
Mark Papenhausen
Jay Cook
Emile Gamellin Award