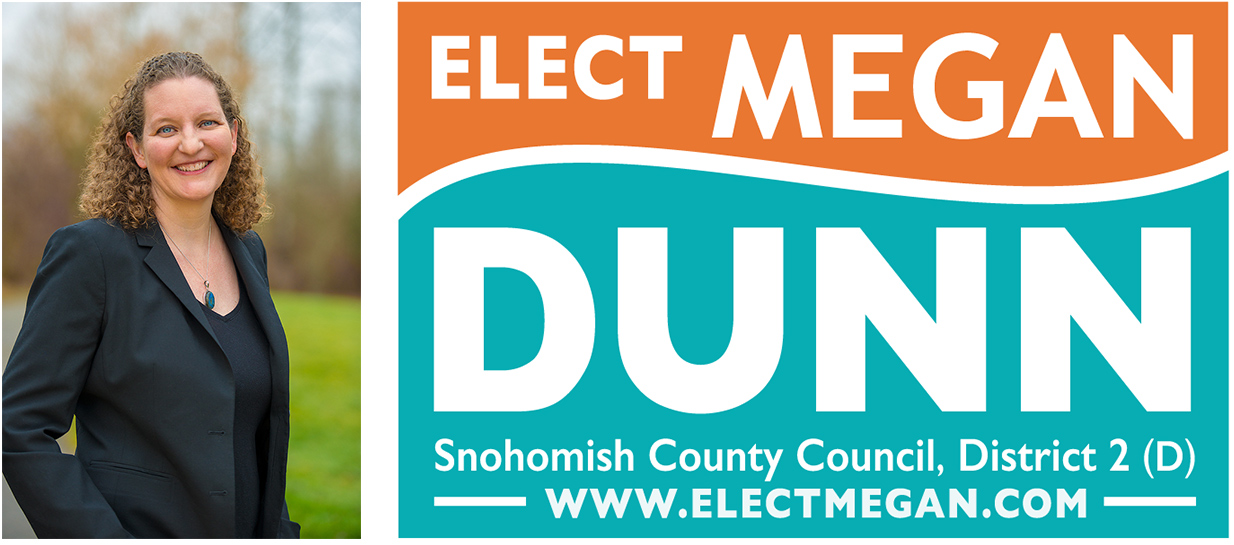 PROGRESSIVE
VOTERS GUIDE
Endorse and Support Our Campaign!
Join elected officials, community leaders and neighbors in support of Megan's election for County Council District 2 that attended Megan's remarks at the Historic Hartley Mansion, Saturday, 7-20-19!
***Healthy Communities
***Champion for the Environment
***Fighting for Working Families
Megan Dunn is running for Snohomish County Council in District 2, which represents portions of Everett, Tulalip areas, and all of Mukilteo: "I'm excited with this campaign – about what kind of new leadership we want for Snohomish County. We can't just be surviving. We deserve to be thriving," says Dunn. "With more than 20 years of experience in nonprofit leadership and advocacy, I have a passion for bringing together diverse partnerships and building community".
Megan is also proud to have received a number of endorsements from community leaders and members of the Everett City Council, including Brenda Stonecipher. Megan has led the successful effort to create districts for the Everett City Council.
Megan has also worked with Service Employees International Union (SEIU) to help secure a citywide contract which includes the first-ever guaranteed sick days ,
Megan recently served on the Everett Community Streets Initiative Task Force, which helps address homelessness in downtown Everett.
Megan graduated from the M.A. in Policy Studies program in 2013 and has served as an Alumni Ambassador.
Megan plans to continue her work on community-building and environmental sustainability. In this connection Megan is proud to be the program director for the Northwest Center for Alternatives to Pesticides.
Megan's delivery style was very clear and knowledgeable but at the same time, informal and friendly. She is one of those very experienced community leaders that can select two key topics that are appropriate for the listeners. And she can provide compelling reasons, why you would join with her in supporting her objectives.
By the time Megan finished her remarks, it became obvious to myself and the other attendees that Megan is not "Just running for office" but she is, indeed, seeking the Snohomish county Council in District 2 spot because of the things that she can do for you – and our community.
It was certainly an honor to host Megan's Campaign at the Historic Hartley Mansion Saturday, 7-20-19. The remarks that she presented were warmly endorsed by the "Who's Who" of our community – including the "Queen of Lowell"!
Sanford Wright MD
Neurological Surgeon
Host of Megan Dunn Historic Hartley Mansion Campaign Fundraiser
drsanfordwright.com
Megan Dunn Campaign Presentation